! doctype html public "_//IETF//DTD HTML//EN//2.0">
CASA TAIGUARA
Brazilian street kids shelter project
| | |
| --- | --- |
| | |
| Casa Taiguara in central São Paulo, Brazil is now housing twenty five children who were homeless in the streets. These are children who wanted to be helped to a better life. Many dont and cant be helped so easily. | When the children arrive they have a shower and are given clean clothes to wear. Later they begin to join in with their new family. Some will leave to go to other projects which teach them skills so they can go to school or work. |
The shelter House of Taiguara was set up in São Paulo in 1996 by Sr. Daniel Fresnot to house about twenty five young children who were living on the streets. Taiguara was a famous Brazilian composer who died in early 1990s. He wrote songs which exactly stated the principal objectives of caring for the street kids which the shelter is trying to follow. That is: love, caring, shelter, safety and all the other things kids in a normal family background would have.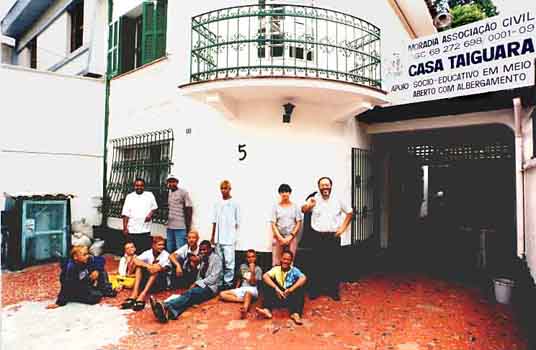 Sr. Daniel and the staff and kids at the shelter. The kids may change daily as some go to other projects, but Casa Taiguara has now placed 36 children in full time schools and reunited 5 children who were lost with their families.
| | |
| --- | --- |
| | |
| Children with different problems learn how to live and play together in the shelter. Many gain enough confidence to go to other projects which are better able to teach them particular skills. | Meal times are very important because the children learn to cook and serve food for each other and be together as a family. Something simple which many of them have never experienced. They also learn how to trust adults again with the help of the shelter workers. |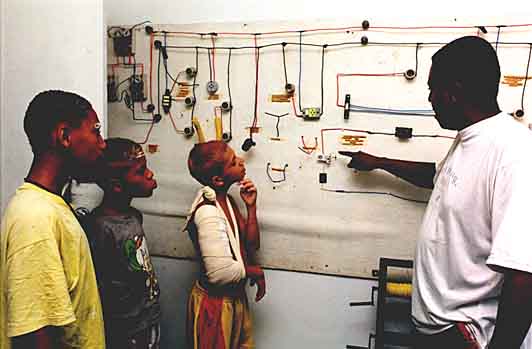 Kids receive help and training in interesting subjects to teach them particular skills that will be useful for work or further education, such as learning about electrical circuits.
Sr. Daniel helps out in the class room where kids receive basic education. Volunteers also teach art and chess classes for the kids..
The kids have three meals a day, cooked by staff and volunteers in the shelter kitchen.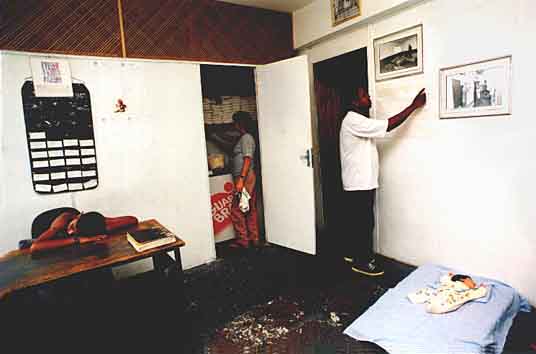 The general office also has a secure store. The youngest child in care is just three weeks old, born to a fifteen year old street girl, the baby would have certainly died if it had not been for Casa Taiguara.
It costs about ten thousand US dollars a month to run the house and help is needed to keep it open.
If you can help please contact us or the shelter directly:
Casa Taiguara
Rua Vincente Prado 93
CEP 01321-020 CENTRO
São Paulo-SP
Brazil
Tel +55 11 239 3146
email: dfresnot@zaz.com.br
or to make a donation online click here
London office:
c/o Campos & Davis Photos
6 Cranbourne Road
London N10 2BT
Tel/Fax +44 20 8883 8638
email: abrigo@campos-davis.co.uk